Skip to Content
Durable Pre-Bagged Concrete in San Jose & San Carlos, CA
Garden Supply Hardscapes supplies convenient pre-bagged concrete to home and business owners in San Jose and throughout the San Carlos Bay Area. Prepackaged concrete is primarily used for small paving projects like simple driveway and patio patching and repairs. It's also highly effective when applied around the edges of pools. Contractors can use it, but it's also easy for property owners to apply during their DIY projects. All you need to do is add the amount you need to a container, mix it properly with water, and apply it.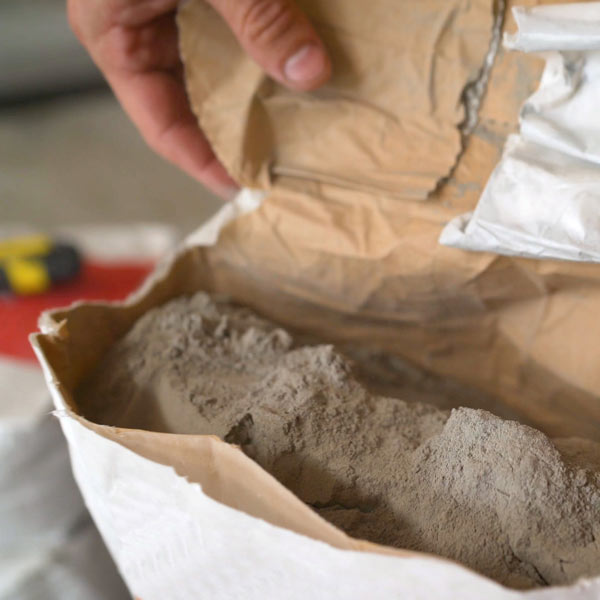 About Gator Polymeric Joint Sands
We're a proud supplier of Gator polymetric joint sands. Gator's sand and dust material is uniquely adjusted and processed to form a durable, long-lasting bonding agent. The installation is almost exactly like traditional paver joint sand. The only difference is the inclusion of water for mixing. We offer top-grade Gator products, including Maxx Sand G2, Supersand Bond G2, and dust bond. Our team is here to guide you through our selection of Gator projects and help you choose the binding best suited for your paving project.
Unsure of how much you'll need for your project? Use this helpful calculator so you buy just the right amount!
Polymetric Joint Sands We Utilize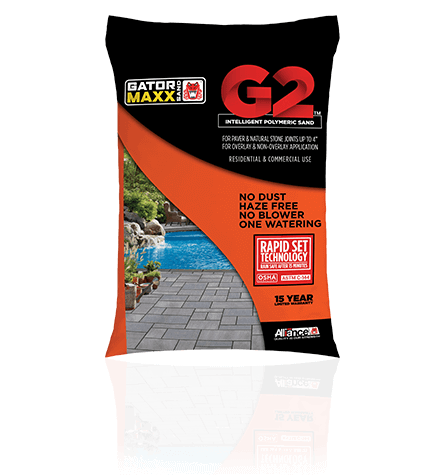 Gator Maxx Sand G2
Gator Maxx Sand G2 comprises rapid-set technology to dry quickly, enabling you to walk on it in no time. It can be applied to paving projects for homes and businesses. Its joints have up to 4" for standard applications and 2" for overlay for pavers, wet cast stones, natural cast stones, and slabs. Standard applications are rain-safe 15 minutes after water activation, while overlay applications are safe after 24 hours. It comes with OSHA crystalline silica compliance and ASTM C-144 graduation sand. Enjoy a color selection including beige, ivory, slate grey, and black diamond.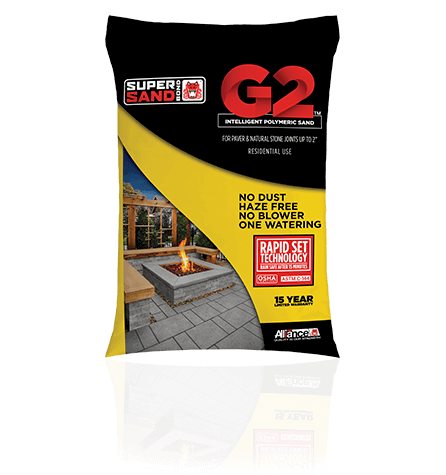 Gator Supersand Bond
Gator Supersand Bond provides cutting-edge haze-free technology and is used for homes and residential properties. It has a 1" standard application for slabs and wet cast pavers. Wait an hour after water activation, and it will be rain safe. All Gator Super Sand bonds include OSHA crystalline silica compliance and ASTM C-144 graduation sand. It comes in beige and slate grey, perfect for neutral, earthy tones that blend and complement outdoor settings.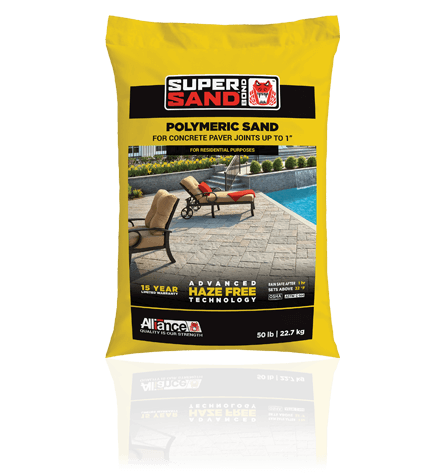 Gator Supersand Bond G2
The Gator Supersand Bond G2 has the durability and performance of standard Supersand Bond, but it also has rapid set technology that reduces drying time. It is intended for residential properties, applied during DIY home improvement projects. The rapid set technology makes it rain-safe 15 minutes after water activation. The G2 has OSHA crystalline silica compliance and ASTM C-144 graduation sand. Choose from beige or slate grey to imbue your walkway, patio, pool, or driveway with your preferred aesthetic.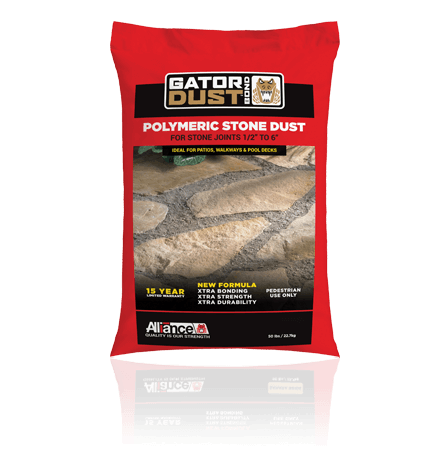 Gator Dust Bond
Gator Dust Bond is formulated with a long lifespan and exceptional durability. It is applied traditionally and used for residential and pedestrian purposes. Its joints range from ½" to 6" for natural and wet cast stones. There is a wait time of 24 hours after it's been applied and water-activated, after which it is rain safe. Homeowners can choose from Sahara Beige and Stone Grey, two options perfectly suited for natural-looking or sleek, modern walkways.
Add Long-Lasting Beauty to Your Outdoor Space